September 18 - 22, 2019 marks the 4th Annual Festival of Science in Moab. The Festival Committee has organized a fantastic variety of free events showcasing the wonders and value of science with a special focus on Colorado Plateau science. The goal of the festival is to connect and inspire citizens and visitors of southeastern Utah with the joy of science, the importance of our regional research, and the thrill of scientific discovery. Go to 2019 Festival Schedule for all festival event details!
2019 Keynote Speakers Mike and Jenny Fiebig - 7pm at Star Hall
In 2018 the Fiebigs completed a human-powered, 5-month, 1800-mile source to sea trip on the Green and Colorado rivers in a custom-built dory named the "Green River." Along the way, they interviewed a diverse group of people about their connections to the river and to one another, from ranchers in the Wind River Mountains of Wyoming, to people restoring sections of the Colorado River Delta in Mexico. Whether you're curious about the current state of the river system, planning your own through-paddle, or reestablishing connection in a disconnecting world, this talk is sure to be inspiring. Hosted in conjunction with the USU Center for Colorado River Studies and American Rivers.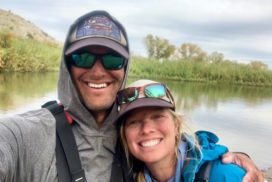 We Need Your Feedback!
Please follow this link to take a brief survey.